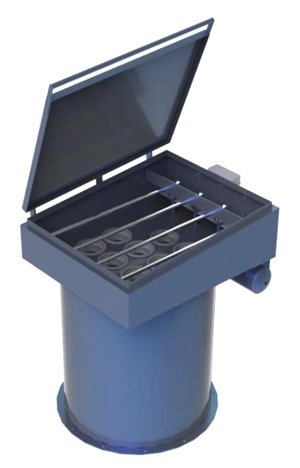 The dust extraction systems and components below are just a small selection of the air pollution management products available from DUSTEX. If you need some help selecting dust extraction systems, or you are looking for a customised dust extraction system design, please contact us.
DUSTEX can supply and manufacture fume and dust extractors for all industrial applications in NZ.
Industrial dust collectors with fan
A complete dust extraction system that suits most industry applications, with customisable fan and filter options.
Custom dust collector - top section with fan
Do you already have a waste skip, and need a replacement dust and fume extraction system? This is for you.
Bin/silo dust collector range
A range of silo dust collectors with pulse jet cleaning, for silo venting and silo filtration.
Filterclone timber dust extractor range
A complete dust extraction solution for the timber processing industry
Filterclone cyclone dust collector with bin loading system
This is a complete dust collection system that loads waste material into containers.
Waste bin dust collectors for woodworking
These industrial dust extraction units are specifically designed to handle large amounts of timber shavings and sawdust.
Model SLC – the best dust collector solution for a wide range of industries
Ideal for timber processing, woodshops, plastics, grain handling, and seed dust.
PLEATED FILTER CARTRIDGES
DUSTEX stocks a range of pleated filter cartridges for industrial dust collectors. We have these in stock in Auckland, and can despatch NZ-wide.