ELECTROSTATIC PRECIPITATORS (ESP): COMMERCIAL AIR FILTRATION SYSTEMS
Electrostatic precipitators (ESP) are a type of clean air technology for gas fumes, mist, and oil vapours at high collection efficiencies. An electrostatic charge is applied to the fume, grease, and mist particulates. These negatively charged particulates are instantly attracted to the positively charged anode in the electrostatic precipitator air purifier, and the resulting exhaust gas comes out as clean air.
Option to reduce exhaust odours  
If exhaust odours are an issue – due to neighbouring properties, or as a council requirement – this can easily be dealt with. A UV light filter and carbon filter can be added to the ESP air filter as an additional option. This will reduce smells at the exhaust.
Proven electrostatic precipitator technology
DUSTEX has sourced highly efficient electrostatic precipitator commercial filtration systems from KLEAN Environmental Technology Co., Ltd. The company has been manufacturing ESP air purifiers since 1992; has over 174 patents on its technology; is ISO 9001 accredited; and is represented in over 80 countries. KLEAN's electrostatic precipitator air filters have over 96% removal efficiency.
DUSTEX can design and supply an electrostatic precipitator system customised to your needs.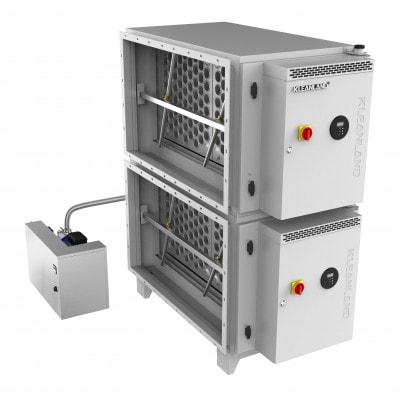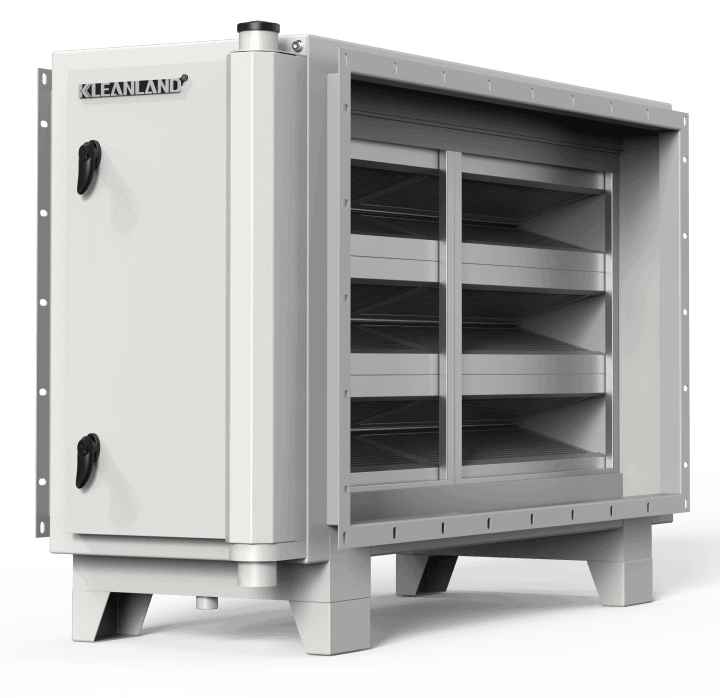 What industries and applications are electrostatic precipitators used for?
An electrostatic precipitator is used to control the pollution of all types of gas fumes, mist, and oil vapours. Common uses include:
Commercial kitchen extractor fan and commercial range hoods: To collect fumes from gas stoves, deep fryers, stir-fry woks, charcoal grills, smoke houses, and coffee roasters. ESP filtration is an ideal commercial kitchen ventilation and exhaust system.
Commercial exhaust fan for manufacturing processes: Commercial air filtration systems for welding, CNC machining, laser cutting and etching, steel oil quenching, wire drawing, metal wintering, fasteners and die making, and melting furnaces.
Pollution control for asphalt industries: Control industrial pollution from asphalt coatings, saturators, and hot mix plants.
Plastic and rubber commercial air filtration: Environmental technology for butting, curing, grinding, and recycling rubber. Also for all types of plastic processing and manufacturing.