Waste bin dust collectors for woodworking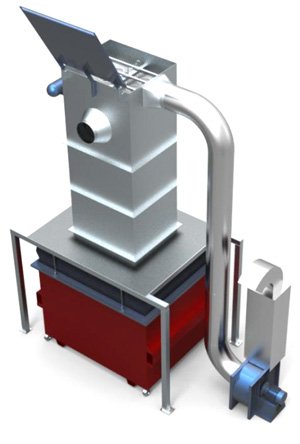 Waste bin dust collectors for woodworking are industrial dust extraction units specifically designed to handle large quantities of waste material – e.g. timber shavings and sawdust.
Therefore these industrial dust extraction units are ideal for the timber processing industry, woodshop dust collection, woodturning dust extraction, and dust collection systems for woodworking shops.
These industrial dust extraction units come as a complete system. What makes these the best dust extraction system for woodworking is that they can be customised to suit your specific needs and also your site. You can read about our design service here.

Dust extractor construction
Fully welded 3mm plate.
Pneumatic cylinders seal waste bin to dust collector.
Flexible fan location to suit site requirements.
Long-life industrial paint specification.
Robust filter element construction.
Additional options for industrial dust extraction units
Needlefelt bags and cages or pulse pleat filter elements.
Ladders and access platforms.
The fan supplied with your dust extractor would suit your specific dust extraction needs.