Custom dust collector:
top section with fan range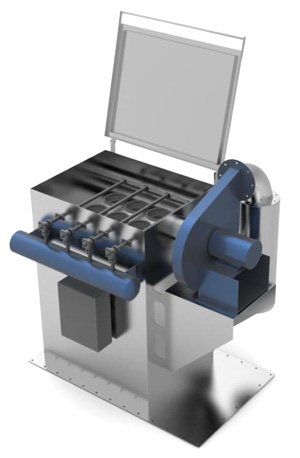 Many of our customers already have an existing waste skip, and require a replacement dust and fume extraction system to fit on top… And that's exactly what this dust collector does. This is therefore a very cost effective solution for dust and fume extraction.
The exact specifications and design of this dust collector can be customised to suit your needs. We'll work collaboratively with you to provide a custom dust collector that's NZ made.
Pulse jet cleaning system
The pulse jet cleaning system provides efficient, continuous air filtration.
Plus this custom dust collector is easy to service and very low maintenance: you simply loosen the hand wheel to remove the blow tubes and to access the air filter elements.
Duty
Nominal airflow of 1,000 to 30,000 m³/hr as standard. Or we can custom design this to suit your needs.
Filter quantity options 9, 12, 20, 24, 36, 48 off as standard – or we can custom design this to suit.
Filter length options 0.5, 1.0, 1.5 and 2.0 m standard – or custom lengths up to 5.0m.
Filter area options range from 9.9 m² to 400 m².
Compressed air requirements 7.0 to 20.0m³/hr (4 to12 cfm) at 6 Bar clean and dry.
99.99+% filter efficiency.
Construction
Fully welded 3mm plate.
Easy-access hinged lids.
Flexible fan location to suit the requirements of your site.
Long-life industrial paint specification.
Robust filter element construction.
Custom dust collector options
Needlefelt bags and cages or pulse pleat filter elements.
The fan supplied would suit your specific dust or fume extraction needs.