Industrial and commercial fans
DUSTEX's experience in industrial and commercial fans dates back to 1993, and since then we've designed and manufactured axial and centrifugal fans to a wide range of industries throughout New Zealand. Fans are available as standalone items, or as part of a dust extraction system.
As a specialised manufacturer, DUSTEX has extensive experience in adapting ordinary fan products and creating something unique.
Dust extraction fans, industrial air fans, heavy duty fans, and tunnel fans are our speciality. You can read some of our dust and fume control case studies here.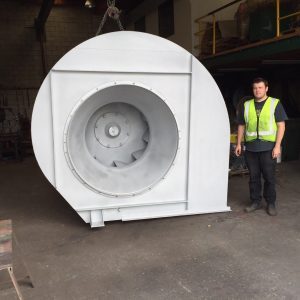 Choose from a complete range of industrial and commercial fans
Axial fans
Including propeller fans, tube axial fans, and vane axial fans. Suitable for ventilation fans, bifurcated fans, roof supply fans, roof extractor fans, industrial cooling fans, spray booth fans, and mine and tunnel fans.
Find out more about our range of axial fans.
Centrifugal fans
The range covers radial blade, forward curve, backward curved fans and backward inclined aerofoil fans. These fans are ideal as dust extraction fans, high pressure, high temperature and heavy duty applications.
Find out more about our centrifugal fans.
Roof vents and ventilators
Do you need to extract hot air, fumes, or dust?
DUSTEX can supply roof vents and ventilators to suit your site.
Industrial fan repairs
As well being industrial fan suppliers, DUSTEX can also repair commercial and industrial fans of any type.
Find out more about our industrial fan repair service.